'I Choose Living' Cancer Retreat
Emotional healing and beyond for people affected by cancer. Finding inner peace to improve the quality of your life.
The goal of the I Choose Life Retreat is to provide participants with education, transformative experiences, inspiration and motivation in identifying and nurturing conditions for the body, mind and soul that gives the best chance for the body to activate self-healing abilities and at the same time enable them to live normal lives as much as possible with the given diagnosis.
This program has proven to make a difference for people affected by cancer at an emotional, mental, and energy level of their being which will give them the best chance for survival, getting back on track or at least enjoying the rest of their life. It uses the latest transformational tools, ideas and information in a nurturing environment.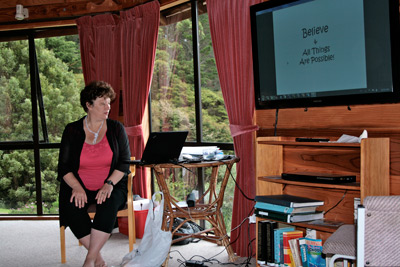 Jasmina Kovacev, BSc Phyto Med, Dip.Herbal Med, EFT expert and International Master Trainer, NLP Master, Life Coach, Meta Medicine Coach and META-Health Master Practitioner and Trainer, utilises an extensive background of over 30 different modalities. She is the Creator of the Round Rainbow™ series of trainings for wholeness of being. Her passion is to find the key essence of human performance, potential and health. Jasmina focuses on the key factors of emotional and mental being which create our health and life.
Typically the retreat caters for 12 – 20 attendees plus the programme facilitators and one to two other practitioners in complementary areas.
In this retreat experience, participants will:
Leave many fears and worries behind
Leave many other cancer related feelings behind
Learn how emotions and beliefs affect their health
Learn essential coping skills in everyday life that will build higher resilience
Discover an attitude that will serve them in a supportive way
Have their body nurtured with healthy foods that support healing
The video below provides feedback of a group from 2012. Participants assessed the retreat as the beginning of a new era in the way of supporting cancer affected people.
Below are testimonials and feedback from 2013 attendees along with benefits that participants listed at the end of their retreat.
2017. Cancer Retreat
New Zealand
November
Early bird price till end of August is $2995, full price after that $3470. It includes 7 days and 7 nights accommodation, all meals specially designed for cancer affected, tuition, transformational sessions, required material for the retreat, META-Health analysis and two individual sessions (one before and one after the retreat) Groups are small and you can secure your place with $500 deposit.
For those that have financial hardship, we invite you to fill in this subsidy application form.
The program includes a range of activities and is carefully designed with an outcome in mind of emotional peace and a change in attitude.
Additional individual sessions for a more comprehensive personalised program are also available. Please notify us of your interest in this when you register, and you will be contacted in order to discuss your requirements and how we can work together in a free consultation call.